Sky One has ruined my life.

No more Glee unless I'm prepared to cough up for a Murdoch subscription. I'm almost desperate enough to dig one of their flyers out of the bin and give them a call, until I remember a previous dalliance with Sky Sports which left me with bugger all but some mediocre football, a large bill and pressure sores on my arse.
So for purely selfish reasons I'd like to suggest a few reasons why E4 should have a shufty down the back of the sofa for a few more shekels to TRUMP Murdoch and bring Glee back to a terrestrial audience. And if you're wondering why a social care blogger is writing stuff about a slightly daft TV show when there's plenty of far more worthy topics to munch upon, well it's not just a TV show. It's a weekly dose of serotonin-pumping, feel-good musical energy entertainment and source of POSITIVE MENTAL HEALTH FOR APPROXIMATELY 1.6 MILLION PEOPLE. That's why.
Glee is cool
I say this to most normal people and they visibly recoil. In fact, if you've ever poured salt on a slug the instant 'melt' thing is exactly the reaction you tend to get at the mere mention of the show. But Glee is gradually contagious and every fan probably has a 'conversion' story to tell.

You have a family member, a partner or friend who starts off being a bit sniffy about Glee.
You settle back for the first scene. It might be Finn's gormlessly handsome face registering that "Uh? What happened to my brain?" look, or a full frontal of one of Mr. Schuester's sweater collection, but the Glee-sceptic huffs, says something under their breath about 'High School Musical 4: Post-Puberty' and whips open their laptop with a disdainful flourish. They're probably reading sites dedicated to celebrity hair transplants and 'How to lose 10lb by eating grass' so they're in no position to take to take the moral high ground, but you just let it pass so as not to miss a millisecond of goings on at William McKinley High. But resistance is futile. Eventually the mask drops, scales fall from eyes and the laptop is abandoned to witness the full glory of daft teenagers singing and dancing their way through high school. And then there are two of you.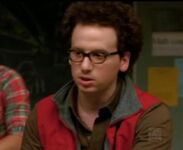 Now purely in the interests of research I've just taken the E4 Glee Personality Test. Fortunately, weird half-perv/half-nerd student blogger with glasses and crazy hair Jacob Beth Israel wasn't an option, but apparently I am most like Mr. Schuester. I think for a while there I was veering toward Rachel but managed to avoid ticking the 'I want to be a showbiz star at any cost' option and left with dignity intact.
Online opinion seems divided as to who is everyone's favourite character. Personally I think if there is a 'star' of the show it's surely the slightly androgynous, track suited she-wolf and head of the Cheerios Sue Sylvester. I wonder just how many viewers of various persuasions have fantasised about having Sue as their school PE teacher, chasing them naked and yelping from the shower with the flick of a moist towel, and …. let's move on.
With sexuality, gender, ethnicity, disability and all round 'otherness' hogging the plot lines, Glee ticks off more boxes than a London Borough of Lambeth Policy and Procedures Manual, and critics do complain about the almost demographically perfect spread of 'diversities' among the Glee club members.
But the show has to be credited with sweeping aside political correctness and getting well and truly stuck in to some quite awkward stuff that other shows might well consider a bit too 'gloopy' for the target demographic.
Kurt's struggle with his sexuality is as good an example as any. He's bullied at school, he hangs out with girls, he squeals at the mere mention of Lady GaGa and his mechanic Dad fails to understand why Kurt thinks a carburettor is a designer shoe. The term 'coming out' seemed a bit of a misnomer for Kurt as he'd been showing a pretty full deck of cards ever since Episode One, but Dad proves to be a saint and transfers our glamorous heroine to a private boys school with it's own show choir.
The Warblers are the all-singing, all-dancing troupe who somehow manage to spend sod all time studying and huge
amounts of time wearing silly blazers and flouncing about to Beyonce numbers without ever getting severely beaten up. Ever. And things get even better for Kurt when he meets all round star, man-love idol and wearer of sensible but expensive leisure-wear Blaine who finally enables Kurt to be true to himself.
The mental illness box is ticked by School Counsellor Emma and her Obsessive Compulsive Disorder, a plot design that started off as caricature and the source of some rather (admittedly good) gags but has evolved into a more serious issue as time has gone on.
The eventual and obvious consummation of her relationship with Will Schuester is comically ruined by her morbid fear of men's bits and bodily fluids, not to mention Will's sensitive yet rampant masculinity. Now correct me if I'm wrong, but I've always imagined Mr Schu's crown jewels as the cleanest this side of the Tower of London and Obsessive-Compulsive Emma really had no need to worry. I do need to worry about the fact that I'm imagining anything to do with Will Schuster's genitalia. Which rather grimly brings me to my final point.
Sad Epilogue
As a middle-aged bloke who likes football, beer, owns a German Shepherd and has a taste in music which usually involves moody synth people sequencing a chainsaw or smelly blokes with guitars, I'm probably not in Glee's target demographic. I'm not in the slightest bit ashamed to say that I love the music, the characters, the dialogue and the sheer joie de vivre. But after holding me in it's warm terrestrial embrace for two whole series
Glee has finally cast
me aside like a used tutu and moved across to the Murdoch table with all it's glitter and it's gold. Sodding hell, I'm starting to sound like Kurt. Time to go.